Mental, Emotional, Physical & Spiritual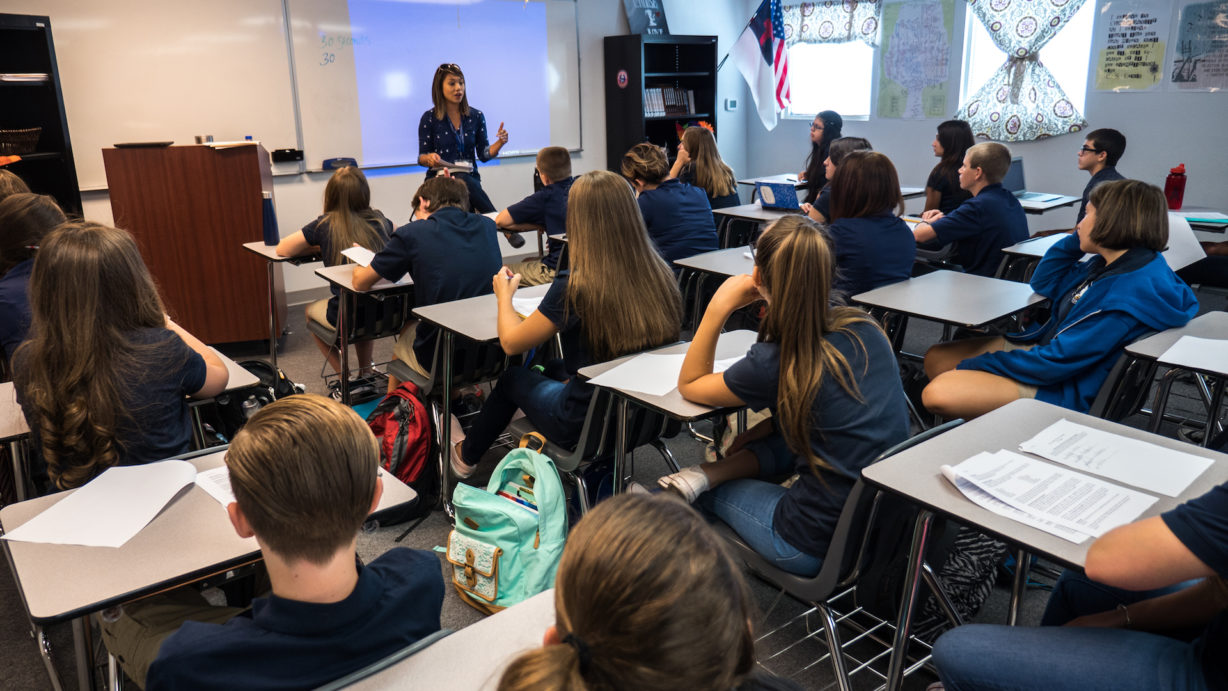 Jesus lived His life as an example of balance in four essential life areas throughout His ministry.
They can be clearly seen in Luke 2:52 (NIV).
"...Jesus grew in wisdom (Mental) and stature (Physical), and in favor with God (Spiritual) and men (Emotional)."
Jesus then explains the greatest commandment in Mark 12:30 (NIV).
"Love the Lord your God with all your heart (Emotional) and with all your soul (Spiritual) and with all your mind (Mental) and with all your strength (Physical)."
Upon graduation, students at GV Christian School will demonstrate:
Mental
Preparedness in all academic disciplines and skills including reading, writing, speaking, listening, and critical thinking.
Pursuit of excellence in all areas.
Time management skills.
The desire to maintain a pure thought life through things seen, done, and said.
Global/community awareness as it relates to the Great Commission.
Express effective study skills as a habit on a consistent basis.
Commitment to lifelong learning.
Know, understand, and apply God's Word in daily life.
Engagement in the learning process.
An appreciation for the arts (fine and performing) and literature.
The ability to find, analyze, and evaluate information.
Stewardship of their finances, time, God's creation and all other resources.
The ability to respond to temptation appropriately, biblically and effectively.
---
Emotional
Integrity and sound character in all circumstances; being able to practice justice, mercy and peacemaking.
Exhibit the Fruit of the Spirit (love, joy, peace, patience, kindness, goodness, gentleness, faithfulness and self-control) consistently. (Galatians 5:22-23)
Growth in relationships.
The ability to create and sustain meaningful  friendships.
Respect for authority.
Know, understand and apply God's word in daily life.
Conflict resolution skills from a biblical perspective.
The ability to live in community with respect to diverse cultures and ideas.
Ability to question, solve problems and make wise decisions.
---
Physical
Possess a healthy body image.
Skills and habits for lifelong physical activity and principles for healthy and moral living.
Knowledge of team sports' rules and guidelines.
Personal responsibility for space and material management.
Respect of their bodies as God's temple.
Strength of character to say no to things that would bring harm to the body.
Learn and maintain healthy personal hygiene habits.
The ability to develop their own unique gifts and talents.
Acceptance of others' God-given uniqueness and diversity.
---
Spiritually
Memorize, interpret, apply and reflect upon scripture.
Knowledge and identification of tools necessary to grow in their faith.
Service to others using unique gifts given to them.
Willingness and ability to defend their faith (know who Jesus is and the Bible's validity).
Develop a variety of methods for searching the scriptures.
The ability to stand up for what is right, using biblical standards.
Commitment to a personal relationship with Jesus.
The ability to articulate and defend their Christian worldview while having a basic understanding of opposing world views.
The difference between having a relationship with Jesus rather than developing a set of "rules."
The ability to reflect on the question: "Does this glorify God?"